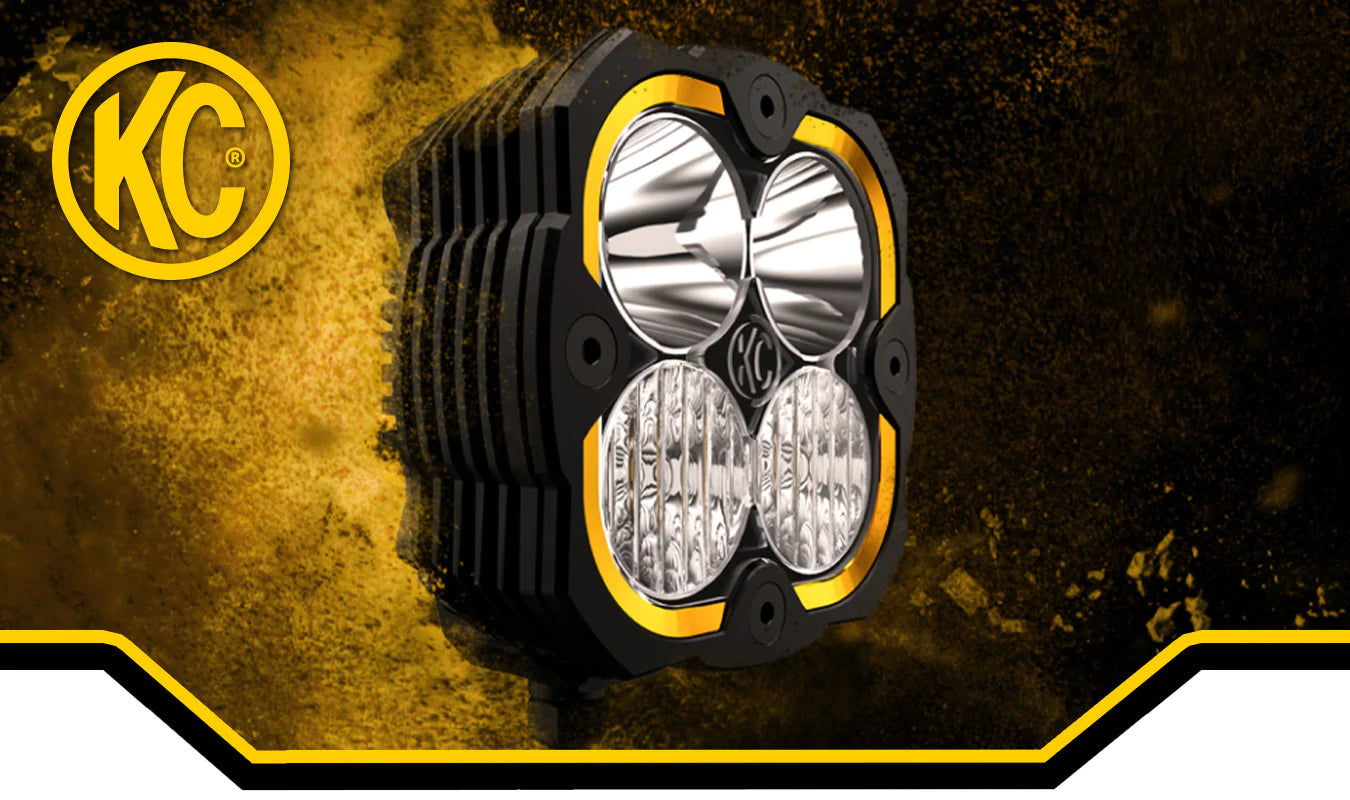 KC HILITES OFFICIAL SPONSOR OF THE DIRT EXPO
KC HiLiTES OFFICIAL SPONSOR OF THE DIRT EXPO
Arizona's own KC Hi-Lites is the Official Light Sponsor of the 2022 Rugged Radios DIRT EXPO. KC has been an exhibitor with the DIRT EXPO way back to the early 2000s when the Expo was the Arizona Sand Expo(Remember those days?). It's a pleasure to have this legacy brand on board with us again this year. Their exhibit is always killer, they always have deals, and there is always something new. 
Stop by the KC Hi-Lites booth and grab a set of the New FLEX ERA® lights. Change the top plate to add a Hi-Liite® color to your truck, UTV, or Jeep. Available in either a 4 Combo or 4 Spot, these A-Pillar lights are lighting the path for top racers, overlanders, and builders in the Dirt Industry Nation®.
ABOUT KC HiLITES
Born from a thirst for adventure, KC was created out of necessity to navigate the darkest of roads, safely. Our founder Peter Kim Brown and his wife Carol, created the market for off-road lights in 1970 by retrofitting aircraft lights into sturdy housings, thus influencing off-road culture forever. KC's name was formed from the "K" in Pete's middle name and the "C" from Carol's name.
Over the next few decades, Pete passed down the knowledge, traditions, and strategies to his son Michael DeHaas and the team at KC. Michael worked in the business starting in the warehouse learning and working his way to becoming KC's sales manager. Working side by side with Pete building the brand and business until he bought the business from Pete in 2004 and became KC's next CEO in 2005. For over 10 years Michael built key relationships and the strategic foundations across the company's product line and infrastructure which set the company up for success in the years to come.
In 2015, after decades of a strong supply chain partnership, being long-time vendors and family friends with Pete and Michael, Mike, Alan, and Andy Wang became investors in KC and partners to Michael. By joining forces, two families become one united front with the ambition to continue preserving the legacy of the KC Brand while expanding the possibilities of off-road's original lighting company. Today, Pete and Michael are still family friends and serve as advisors to the Wangs. The company has points of presence in Williams - Arizona, Los Angeles - California, and Taipei - Taiwan.
For over 50 years, the KC brand has been a symbol of outdoor freedom, adventure, and performance. We engineer features fit for off-road racing and infuse them into adventure products and experiences for those who prefer the paths less traveled. We are adventurers who stand to Defy Limits so we can Adventure Further by always building quality relationships that drive quality results. Today, KC is still a story of family, quality, and innovation.
3rd Annual Full Moon Part - WHAT?
The 3rd Year? We are in our 3rd Year of hosting the Dirt Alliance Full Moon Party at Mormon Lake.  This event has been kept grassroots, with few public announcements ever made.  But it's a Hoot!  Rainy Weather made it a bit of a mud fest, but no one minded as it's an Off-Road Event, and what's offroading if you don't get dirty? 
Hosted by Dirt Alliance, Arizona Raptor Runs, and Tundras of Sedona, the Full Moon Party has a strong community of Off-Roaders.  Arizona Raptor Runs ran their first "Desert to Pines' run, which was 90% Dirt from the Phoenix area to Mormon Lake.  The DA hosted multiple runs during the event as well.  At night the Bonfire was roaring, raffles were taking place, and lots of mudfest stories ran amuck. It's a low-down, calm, relaxing event with excellent activities organized by some of the best groups in Arizona..
Vendor Space is Selling Out
We want your brand at Arizona's Original & Largest Off-Road & UTV Expo, THE DIRT EXPO.
Our new Home is Huge & Beautiful! However, space is limited. Call us today and Exhibit alongside all the Top Brands the Off-Road Industry!
Call 480-899-6458 or Register Online Today!

ABOUT THE DIRT EXPO
The DIRT EXPO is Arizona's Original and Largest Off-Road & UTV Expo. Since 2002 Andy Myers has been putting on Arizona's Premier Off-Road event.  Originally called the Arizona Sand Expo the Event grew into one of the States Largest Expos and encompassed the entirety of the Arizona State Fairgrounds. In 2009, the Expo was canceled due to the economic downturn.
In 2015, the Expo returned as the International Off-Road & UTV Expo. In 2022 it was decided to scrap the name and go with a New Venue, New Name, and a New Plan. The 2022 DIRT EXPO is being held at State Farm Stadium in Glendale, Arizona. "Everything Off-Road" is the mission.
ABOUT DIRT ALLIANCE
DIRT ALLIANCE is a registered Trademark of GAM 2022. DIRT ALLIANCE has been in the dirt for over two decades. Since 2002, generations of Dirt Alliance members have been promoting the industry and activities we love. Twenty-Two years of love, hard work, and dedication have kept Dirt Alliance one of the most recognized names in the Off-Road Industry.
Today, Dirt Alliance keeps the Love of the Dirt alive by promoting the races, events, racers, influencers, and companies we love via Dirt Alliance and Dirt Alliance Media.  This email acquired images from the companies represented or photographed by Dirt Alliance staff. If you are the rightful owner of an image within this email, please notify us at media@dirtalliance.com, and we will promptly remove the said image
Recent Articles
KC HiLiTES is coming back to the 2023 DIRT EXPO to show off the latest & greatest they have to offer!

Read now

Maxxis is the Official Tire Sponsor of the 2023 Dirt Expo!

Read now

Rugged Radios is back again as the Title Sponsor of the DIRT EXPO!

Read now