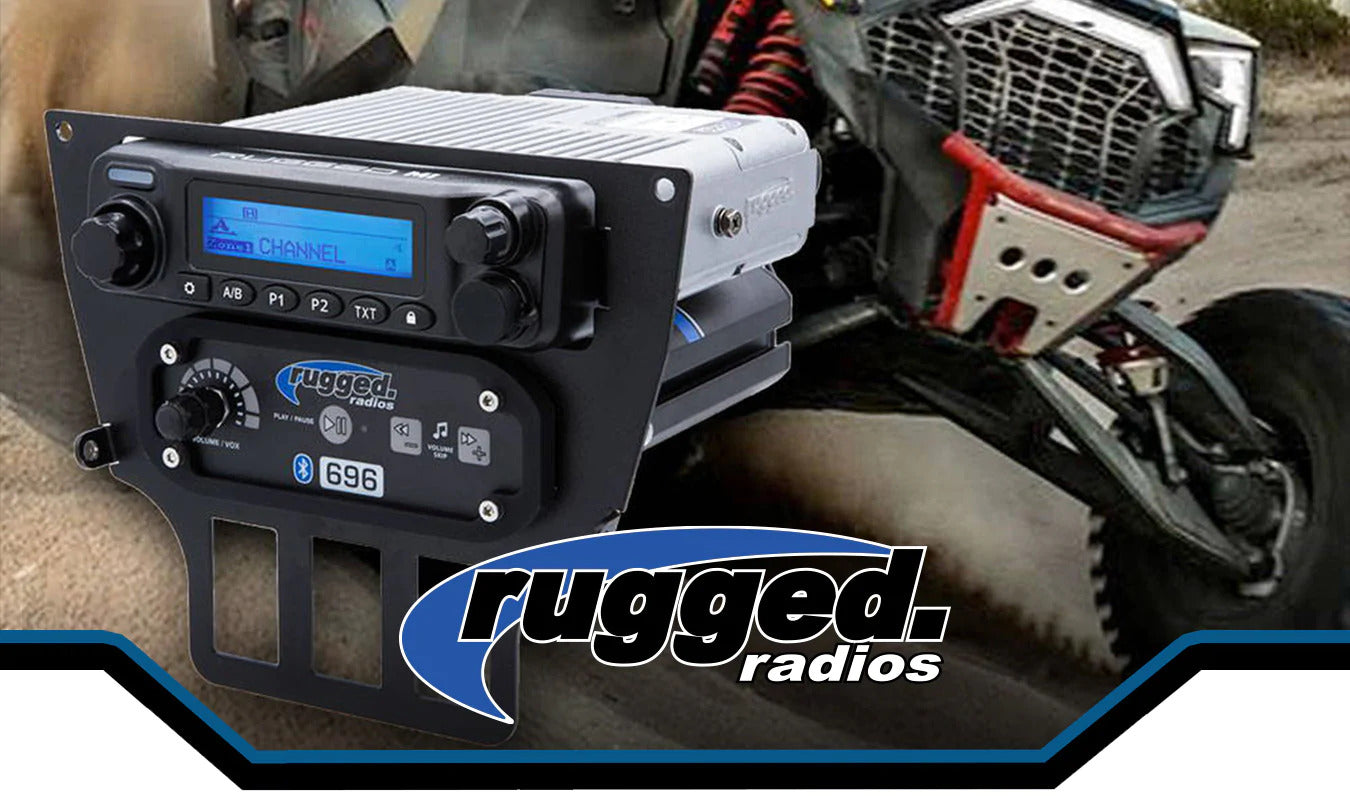 DIRT EXPO: RUGGED RADIOS 5th Year!
RUGGED RADIOS 5TH YEAR AS THE DIRT EXPO PRESENTING SPONSOR
"Rugged Radios is excited to be the presenting sponsor of the DIRT EXPO for the 5th year! The DIRT EXPO is one of the year's biggest shows, and the Arizona Expos team always finds a way to take it to another level. We can't wait to see the show come to life in its new home, State Farm Stadium in Glendale, Arizona, and the entire Rugged Team looks forward to reconnecting with the Arizona off-road community this December. We hope to see you there!" States Rugged Radios
Who could say it better than Rugged Radios themselves? Everyone here at the DIRT EXPO is super excited to have Rugged Radios back as the presenting Sponsor of Arizona's Original and Largest Off-Road & UTV Expo. Over five years as the "Presenting Sponsor" is a testament to the DIRT EXPO's strength and value to the Industry and the Arizona Off-Road & UTV marketplace. 
Of course, there will be deals. Rugged always has the latest and greatest innovations available in the Off-Road communication segment. DIRT EXPO customers know that when Rugged comes to town, they can expect excellent customer service, help with issues, and trust 30 years of communication experience from Owner Greg Cottrell and his team. 
This year make it a Rugged Radios one. Stop by the Rugged Radios booth and have the Rugged team members help you identify the communication system(s) that you and your family, friends, race team, chase team, or group need to keep you in constant communication out on the trail, at the race, in the dunes, or in the chase vehicle.
ABOUT RUGGED RADIOS
When Greg Cottrell, Founder, and President of Rugged Radios, started this company, he set out to revolutionize the offroad communications industry. That dream grew into the communications giant that is Rugged today, manufacturing communications for Work, Race, and Play Communications For Any Environment. Whether you're ripping through Baja in your UTV, hitting the single track with your friends on the weekend, or taking flight in your Cessna, you need communications you can trust. With nearly 30 years of experience in manufacturing high-noise environment communications, Rugged Radios boasts a full line of communication products. From industrial job sites to agriculture to fire & safety - we offer Communications For Any Environment.
Connect to Anything
From headsets to intercoms and endless cabling options, we genuinely Connect To Anything. Rugged can configure almost any communication application - an option not available with many manufacturers. Do you have a Motorola, Kenwood, or Icom radio? We can connect to it. If you don't see the cable you're looking for online, give our team a call - we're here to help!
Go Further
With our knowledgeable staff, superior level of service, and broad product line, Rugged Radios is the #1 choice for all your communication needs. In addition, we provide World Class Support to all our customers, and our race support staff provides technical assistance that is second to none.

 
We build our products to be rugged, tough, and engineered with the finest components, using our proprietary technology that exceeds other brands. We're passionate about communications, and our product line reflects our dedication to helping our customers Go Further®.
Thank You for being part of the Rugged family!
Vendor Space is Selling Out
We want your brand at Arizona's Original & Largest Off-Road & UTV Expo, THE DIRT EXPO. 
Our new Home is Huge & Beautiful! However, space is limited. Call us today and Exhibit alongside all the Top Brands the Off-Road Industry! 
ABOUT THE DIRT EXPO
The DIRT EXPO is Arizona's Original and Largest Off-Road & UTV Expo. Since 2002 Andy Myers has been putting on Arizona's Premier Off-Road event.  Originally called the Arizona Sand Expo the Event grew into one of the States Largest Expos and encompassed the entirety of the Arizona State Fairgrounds. In 2009, the Expo was canceled due to the economic downturn.
In 2015, the Expo returned as the International Off-Road & UTV Expo. In 2022 it was decided to scrap the name and go with a New Venue, New Name, and a New Plan. The 2022 DIRT EXPO is being held at State Farm Stadium in Glendale, Arizona. "Everything Off-Road" is the mission.
ABOUT DIRT ALLIANCE
DIRT ALLIANCE is a registered Trademark of GAM 2022. DIRT ALLIANCE has been in the dirt for over two decades. Since 2002, generations of Dirt Alliance members have been promoting the industry and activities we love. Twenty-Two years of love, hard work, and dedication have kept Dirt Alliance one of the most recognized names in the Off-Road Industry.
Today, Dirt Alliance keeps the Love of the Dirt alive by promoting the races, events, racers, influencers, and companies we love via Dirt Alliance and Dirt Alliance Media.  This email acquired images from the companies represented or photographed by Dirt Alliance staff. If you are the rightful owner of an image within this email, please notify us at media@dirtalliance.com, and we will promptly remove the said image
Recent Articles
KC HiLiTES is coming back to the 2023 DIRT EXPO to show off the latest & greatest they have to offer!

Read now

Maxxis is the Official Tire Sponsor of the 2023 Dirt Expo!

Read now

Rugged Radios is back again as the Title Sponsor of the DIRT EXPO!

Read now