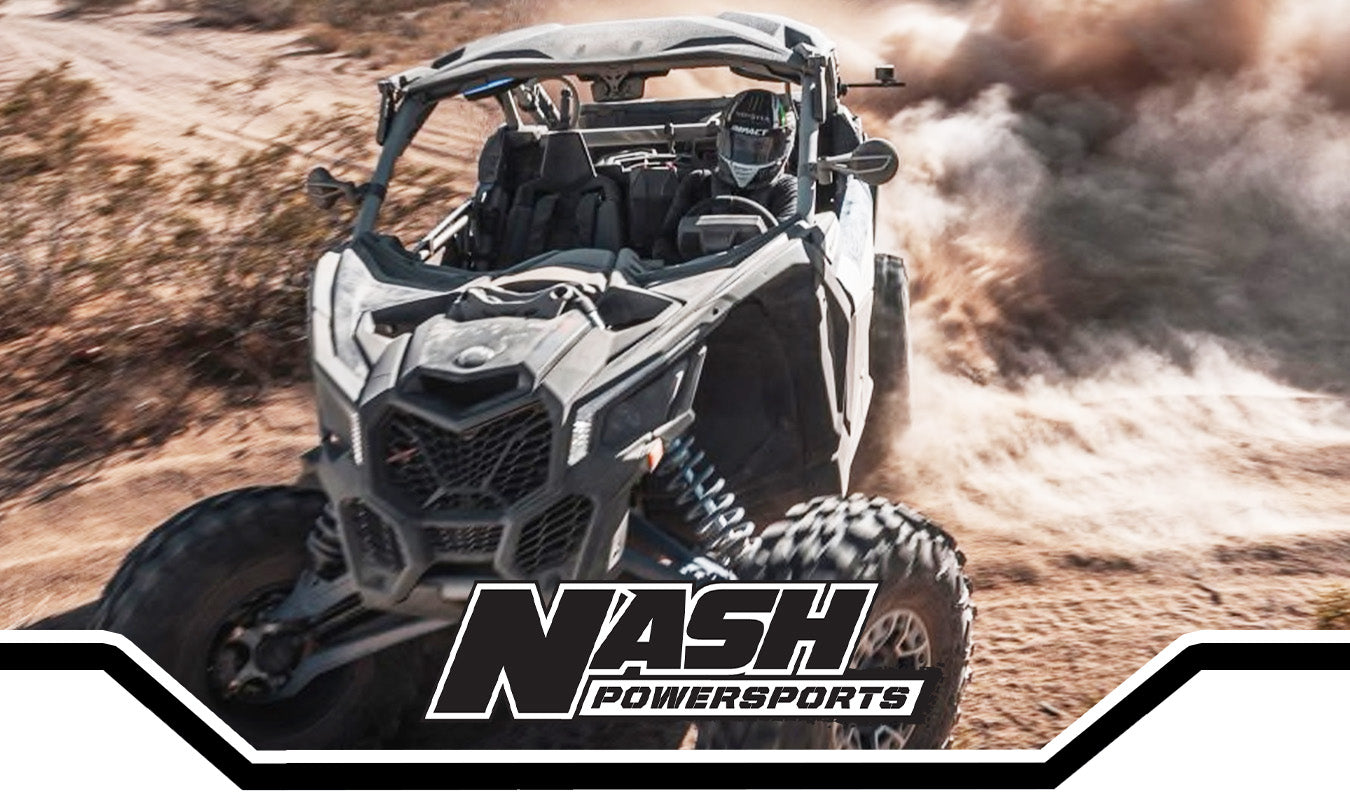 DIRT EXPO: Nash Powersports is Coming!
NASH POWERSPORTS IS COMING
It's been my pleasure to know Bill Nash for decades. From his days at Ridenow to today, he commands one of the Valley's Powerhouse dealerships, Nash Powersports. With 3 Valley locations, and a few dealerships outside of the state of Arizona, in a very short timeframe, Bill and his team of professionals have put the Valley retailers on notice.
From RideNow to today, under his marquee, Nash has always supported the DIRT EXPO throughout its inception in 2002. This year is no exception. Nash Powersports will bring the knowledge and deals to the DIRT EXPO at State Farm Stadium in Glendale, Arizona. From KTM's to Can-Am's and the products you need to get out and back from your next adventure. Stop by the Nash Powersports booth and grab a holiday gift or something for yourself
ABOUT NASH POWERSPORTS
At Nash Powersports, we are Powersports enthusiasts, and we are excited to help you experience the fun and adventure that a quality Can-Am®, KTM, Honda®, Sea-Doo, SSR Motorsports, Suzuki, Spyder, and Yamaha can bring into your life! We are a Powersports dealership serving the Mesa, Phoenix, and Scottsdale area, offering the best in new and pre-owned ATVs, motorcycles, side x sides, or PWCs. Our friendly and knowledgeable sales, financing, service, and parts departments are ready to offer outstanding service at every point, from assisting while making your choice to ongoing maintenance and customization. At Nash Powersports, we value the opportunity to create a long-term relationship with our customers, and we do that by making sure to exceed your expectations..
Got Tickets? Don't Waste Time Standing in Line. Get Your Tickets Now!
Take a few minutes now to register now, so you don't waste time waiting in line at the DIRT EXPO!  If saving time isn't enough of a motive. How about saving money?
If you love Off-Roading, Arizona's Original and Largest Off-Road & UTV Expo is the place to be December 3-4, 2022, at State Farm Stadium.   Get your Tickets Today and be registered for Daily On-Site Give-A-Ways!
PURCHASE TICKETS
Holiday Deals - End of Year Specials - Exclusive Sales Only at Dirt Expo
The DIRT EXPO is here to get your imagination going with all the upgrades and information you need for your next Off-Road Adventure. Over 150 exhibitors are ready to help you find the builds, gear, and knowledge you'll want for your rig, family, and friends. From tires to cages to world-class communication to industry leaders, the DIRT EXPO has the best of the best. DIRT EXPO exhibitors are there to get you the products and gear you need at the best prices available. The DIRT EXPO has all the toys, gadgets, and superior gear you see on rigs at the races, on the trail, and at the dunes. Also, don't miss out on the Holiday Specials and End of the Year sales from your favorite Off-Road Brands.
Vendor Space is Selling Out
Arizona is one of the top Off-Road Destinations in the United States. Be Part of the Original & Largest Off-Road & UTV Expo in the State
Our new Home is Huge & Beautiful! However, space is limited. Call us today and Exhibit alongside all the Top Brands the Off-Road Industry!
Call 480-899-6458 or Register Online Today!

ABOUT THE DIRT EXPO
The DIRT EXPO is Arizona's Original and Largest Off-Road & UTV Expo. Since 2002 Andy Myers has been putting on Arizona's Premier Off-Road event.  Originally called the Arizona Sand Expo the Event grew into one of the States Largest Expos and encompassed the entirety of the Arizona State Fairgrounds. In 2009, the Expo was canceled due to the economic downturn.
In 2015, the Expo returned as the International Off-Road & UTV Expo. In 2022 it was decided to scrap the name and go with a New Venue, New Name, and a New Plan. The 2022 DIRT EXPO is being held at State Farm Stadium in Glendale, Arizona. "Everything Off-Road" is the mission.
ABOUT DIRT ALLIANCE
DIRT ALLIANCE is a registered Trademark of GAM 2022. DIRT ALLIANCE has been in the dirt for over two decades. Since 2002, generations of Dirt Alliance members have been promoting the industry and activities we love. Twenty-Two years of love, hard work, and dedication have kept Dirt Alliance one of the most recognized names in the Off-Road Industry.
Today, Dirt Alliance keeps the Love of the Dirt alive by promoting the races, events, racers, influencers, and companies we love via Dirt Alliance and Dirt Alliance Media.  This email acquired images from the companies represented or photographed by Dirt Alliance staff. If you are the rightful owner of an image within this email, please notify us at media@dirtalliance.com, and we will promptly remove the said image
Recent Articles
KC HiLiTES is coming back to the 2023 DIRT EXPO to show off the latest & greatest they have to offer!

Read now

Maxxis is the Official Tire Sponsor of the 2023 Dirt Expo!

Read now

Rugged Radios is back again as the Title Sponsor of the DIRT EXPO!

Read now