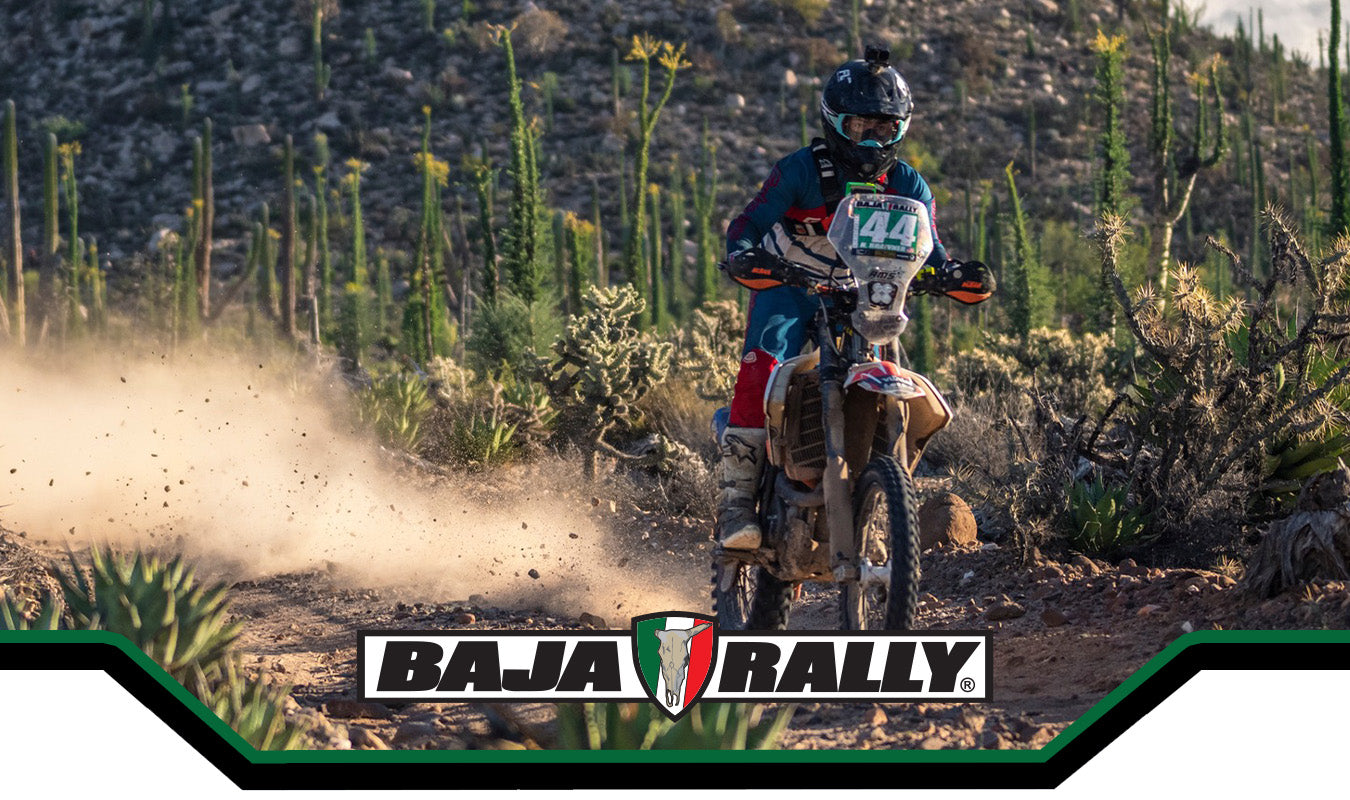 DIRT EXPO: Baja Rally is coming!
The Baja Rally is coming to the DIRT EXPO! This Iconic event has become one of the go to Motorcycle events in Baja. Learn about Rally Racing from some extremely knowledgeable individuals, find out how to get involved, and hear some epic stories from the founder and racers.
FIRST-TIME RALLY RACERS INFILTRATE SIX DAY BAJA RALLY
YOUNG ROOKIES NICK AND ALEC BRAWNER SURPRISE AND UPSET A FIELD OF VETERANS
SAN QUINTIN, BAJA CALIFORNIA, MEXICO - Surprise Surprise. When you least expect something like this, it just happens- and it did. In the business world it's called a market disruption. In motorsports racing, we'll call it a shake up. For the first week of October 2022, under a partial veil of secrecy, the Six Day BAJA RALLY reached a number of new milestones to overcome challenges and reset the future of this event for the next decade to come. Now, the stories are starting to emerge from the veil.
Brothers Nick and Alec Brawner, riding under the Freedom Rally Racing banner, made their first trip to Mexico with neither having ever raced a rally raid stage with roadbooks. After the first 300 KM of Stage 1, it was obvious the Brawner boys were in their own league, with Nick besting handfuls of seasoned veterans and pros by at least 30 minutes. After six days of racing, eventual winner Nick Brawner gained an hour and forty seven minute lead on second place finisher Paul Neff, who himself is an ISDE vet and heading to Saudi Arabia for his first Dakar Rally.
A Rookie No More: Nick Brawner Wins Rookie of the Year while taking 1st place overall. 
Nick's brother Alec would have been in the hunt for the overall win had it not been for a blown motor he suffered while leading halfway through Stage 2. Rally raid rules generally permit a racer who does not finish a stage to continue racing on successive days with either a 10 hour penalty or exclusion from an overall classification at the end of the competition.
It's both surprising and refreshing that a pair of young rookies could come to Baja for the first time and compete against seasoned navigators. But there's quite a bit more to reveal about some other notable standouts for this week long rally raid.
The Year of the Rookie - For the first time since the inaugural Baja Rally in 2013, new rally racers accounted for the largest single classification of entrants with a total of 14 rookies. No stranger to Baja riding and racing himself, Tony Palandrani made his rally debut, returning home to Santa Cruz, CA with 2nd Place Rookie and 4th Overall.
Tony Palandrani stayed healthy and consistent all week to earn a podium finish as a rookie
As a last minute alternate taking the place of Canadian Clint Reviere, local landowner and trail builder Oswaldo Lara emerged as a crowd favorite rounding out the rookie podium under the DiesPro Racing team.
3rd Place Rookie: Oswaldo Lara 
"Without Ewan": His First Rally Won't Be His Last - Global adventure influencer Charly Sinewan entered his first motorcycle race in his life under his given name (Carlos Garcia) because he's widely recognized in Mexico. After 13 years away from home and with millions of weekly viewers on his YouTube channel, Charly took the week off from his normal travel and production schedule to blend in with dozens of racers in virtual anonymity. That kept "Carlos" focused with consistent pace all week. Carlos without Ewan took this competition very seriously and only missed the Rookie Podium by one position.
Carlos without Ewan (McGregor) starts the final stage in Cataviña 
Brett Fox #47 @asphaltandbeyond
From the "What just happened?" file comes the story of sole big-bike entrant Brett Fox, an up in coming adventure influencer and rally rookie who assumed the task aboard his late model Triumph Tiger 900.
For those with knowledge of BOTH adventure riding AND racing in Baja California, this is not the first machine that comes to mind, if ever. Riders of equal size and skill have higher finishing odds on 5 or 6 other bike choices that qualify for the ADV Category. But don't tell that to elite athlete Brett Fox. The Colorodoan proved himself to be the machine and Brett's fellow competitors agreed his weeklong performance (and tire repair skills) were both surprising and impressive. It's almost like he'd be in the hunt for an OA in the rookie category on a 450 as he proved faster than Oswaldo (3rd place Rookie) on the final stage.
Brett Fox throwing rocks on Stage 5
Stage 4. One of the smoother sections.
| | | | |
| --- | --- | --- | --- |
| OVERALL | PRO | RALLY 1 | ROOKIE |
| 1. #44 - Nick Brawner (USA) | 1. #10 - Paul Neff | 1. #20 - Williem Avenant (South Africa) | 1. #44 - Nick Brawner (USA) |
| 2. #10 - Paul Neff (USA) | 2. #3 - Mike Johnson | 2. #21 - Benjamin Myers (USA) | 2. #30 - Tony Palandrani (USA) |
| 3. #3 - Mike Johnson (USA) | 3. #1 - David Pearson | 3. #56 - Rome Holoftis (CAN) | 3. #46 - Oswaldo Lara (Mexico) |
Got Tickets? Don't Waste Time Standing in Line. Get Your Tickets Now!
Take a few minutes now to register now, so you don't waste time waiting in line at the DIRT EXPO!  If saving time isn't enough of a motive. How about saving money?
If you love Off-Roading, Arizona's Original and Largest Off-Road & UTV Expo is the place to be December 3-4, 2022, at State Farm Stadium.   Get your Tickets Today and be registered for Daily On-Site Give-A-Ways!
PURCHASE TICKETS
Holiday Deals - End of Year Specials - Exclusive Sales Only at Dirt Expo
The DIRT EXPO is here to get your imagination going with all the upgrades and information you need for your next Off-Road Adventure. Over 150 exhibitors are ready to help you find the builds, gear, and knowledge you'll want for your rig, family, and friends. From tires to cages to world-class communication to industry leaders, the DIRT EXPO has the best of the best. DIRT EXPO exhibitors are there to get you the products and gear you need at the best prices available. The DIRT EXPO has all the toys, gadgets, and superior gear you see on rigs at the races, on the trail, and at the dunes. Also, don't miss out on the Holiday Specials and End of the Year sales from your favorite Off-Road Brands.
Vendor Space is Selling Out
Arizona is one of the top Off-Road Destinations in the United States. Be Part of the Original & Largest Off-Road & UTV Expo in the State
Our new Home is Huge & Beautiful! However, space is limited. Call us today and Exhibit alongside all the Top Brands the Off-Road Industry!
Call 480-899-6458 or Register Online Today!

ABOUT THE DIRT EXPO
The DIRT EXPO is Arizona's Original and Largest Off-Road & UTV Expo. Since 2002 Andy Myers has been putting on Arizona's Premier Off-Road event.  Originally called the Arizona Sand Expo the Event grew into one of the States Largest Expos and encompassed the entirety of the Arizona State Fairgrounds. In 2009, the Expo was canceled due to the economic downturn.
In 2015, the Expo returned as the International Off-Road & UTV Expo. In 2022 it was decided to scrap the name and go with a New Venue, New Name, and a New Plan. The 2022 DIRT EXPO is being held at State Farm Stadium in Glendale, Arizona. "Everything Off-Road" is the mission.
ABOUT DIRT ALLIANCE
DIRT ALLIANCE is a registered Trademark of GAM 2022. DIRT ALLIANCE has been in the dirt for over two decades. Since 2002, generations of Dirt Alliance members have been promoting the industry and activities we love. Twenty-Two years of love, hard work, and dedication have kept Dirt Alliance one of the most recognized names in the Off-Road Industry.
Today, Dirt Alliance keeps the Love of the Dirt alive by promoting the races, events, racers, influencers, and companies we love via Dirt Alliance and Dirt Alliance Media.  This email acquired images from the companies represented or photographed by Dirt Alliance staff. If you are the rightful owner of an image within this email, please notify us at media@dirtalliance.com, and we will promptly remove the said image
Recent Articles
Jagged X highlights their start in the UTV industry with the Yamaha Rhino to their partnership with Polaris on the first Polaris 800.

Read now

SDR is coming to the DIRT EXPO! It's been a long time since SDR has graced the Arizona Off-Road Community with their presence. 

Read now

Show off your vehicle with your group at Arizona's Original and Largest Off-Road Show.

Read now