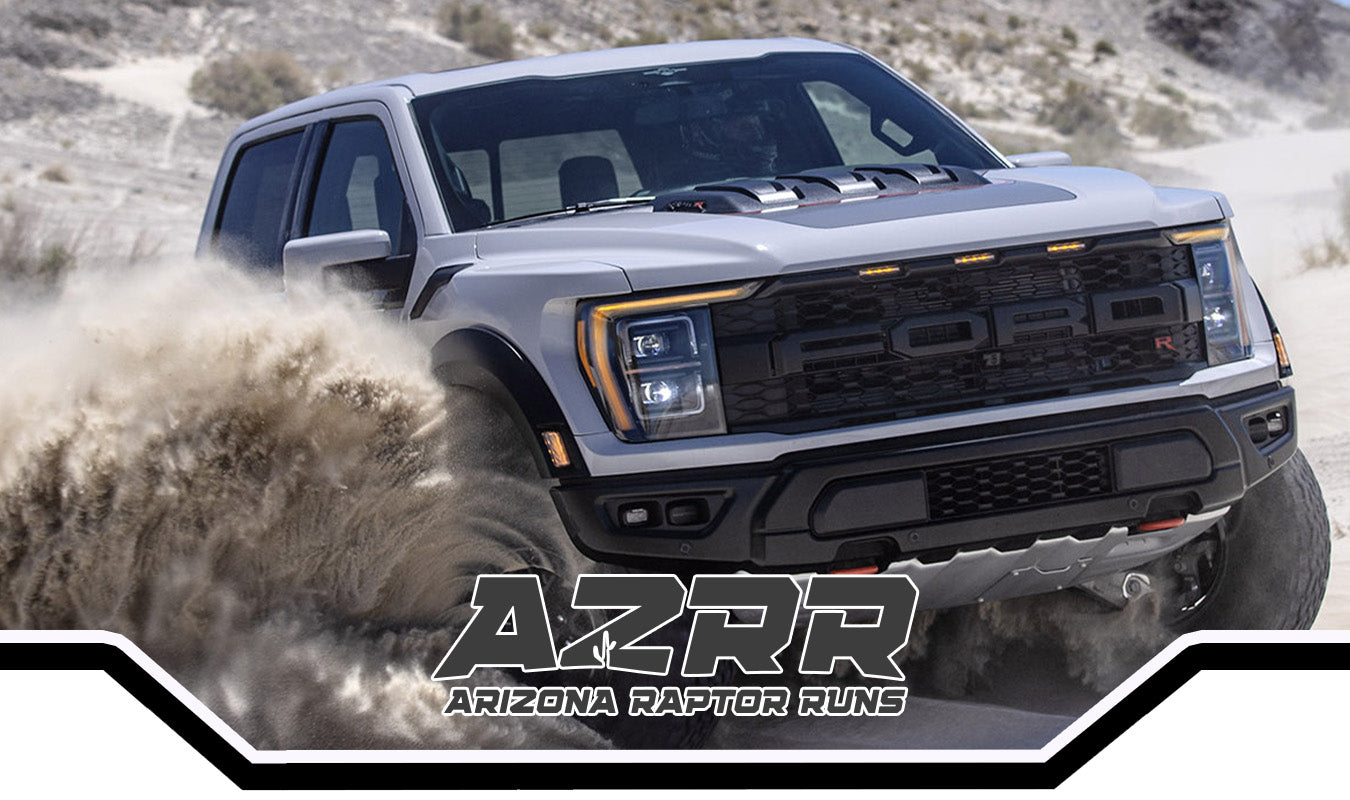 DIRT EXPO - Arizona Raptor Runs Return
For the Second Year in a Row, Arizona Raptor Runs Returns to the DIRT EXPO
The FORD Raptor is undeniably an incredible vehicle. Raptors are tested and proven on every trip Matt Dunshine of Arizona Raptor Runs leads. This group has been all over Arizona off-roading from their "Parker Raptor Run" to the "Desert to Pines Run" for the FULL MOON PARTY. The Ford Raptors that are in this group get tested. 
Matt is a tremendous ambassador for the Ford Raptor community. He's gained a ton of knowledge of Baja via his assistance with Cameron Steeles Baja Raptor Run(not sure if that is the correct name, but it sounds good, so I will go with it). Matt's assisted several times and has put together a run in Baja. 
If you are into Ford Raptors or want to learn more about running around in the desert, the Arizona Raptor Runs group is an excellent place to start. So stop by, hang out, learn, and enjoy!
Some Notes About the FORD Raptor from DIRT Alliance Media
Before the Ford Raptor SVT was brought to market, many other vehicles came out of the FORD SVT (Special Vehicle Team). A team got together to identify and create niche limited-run production vehicles. Since 1991 the SVT Line-Up has looked like this;
~ SVT Mustang Cobra - 1993 
~ SVT F-150 Lightning - 1993
~ Shelby GT500 - 2007 - 2014, a guesstimate total of 47,996 vehicles made. A 2021 GT500 resale value will increase between 63-64% within five years.
~ FORD Raptor (3 Generations) Gen 1 - 2010-2014, Gen 2 2016-2020, Gen 3 2021 to Current)
~ SVT Contour Sports Sedan - A Contour Sports Sedan(CSS) is a rare car to find. From 1997 to 2000, only 2,150 CSSs were known to be produced.
~ SVT Focus - 2003-2004 SVT Mustang Cobra' R' - Only offered in 1993, 1995, 2000
~ Ford GT Supercar 2004-2022 - Total Production Units - 5350 - 2022 Cost: $500,000, Apparently still not as fast to 60mph as the 2013 Ford Mustang Shelby GT500.
In 2015, FORD shut down the FORD SVT unit. In place of the SVT unit, FORD created the Ford Performance division, where we started seeing GEN 2 and Gen 3 Raptors. Issues in the 2009-2012-2014 builds were noticeable. FORD Performance resolved many of these issues. The 2023 Ford Raptor has a Mustang Shelby GT500® engine under the hood that is a 5.2-liter supercharged V8 beast that puts out 700 horsepower. With 640 lb.-ft of torque, off-roading just got a little better. While still not as fast as the TRX to 60mph and not carrying the 650lb-ft of torque, the Raptor can hang in the desert. After all, it is a purpose-built off-road vehicle. Reliability has improved with a J.D Powers rating of 4.8 since 2019; the Raptor is a win for the Ford Raptor community. Ford and industry insiders state that the Raptor has an engine life of 300,000 to 400,000 miles. 
Holiday Deals - End of Year Specials - Exclusive Sales Only at Dirt Expo
The DIRT EXPO is here to get your imagination going with all the upgrades and information you need for your next Off-Road Adventure. Over 150 exhibitors are ready to help you find the builds, gear, and knowledge you'll want for your rig, family, and friends. From tires to cages to world-class communication to industry leaders, the DIRT EXPO has the best of the best. DIRT EXPO exhibitors are there to get you the products and gear you need at the best prices available. The DIRT EXPO has all the toys, gadgets, and superior gear you see on rigs at the races, on the trail, and at the dunes. Also, don't miss out on the Holiday Specials and End of the Year sales from your favorite Off-Road Brands.
Vendor Space is Selling Out
Arizona is one of the top Off-Road Destinations in the United States. Be Part of the Original & Largest Off-Road & UTV Expo in the State
Our new Home is Huge & Beautiful! However, space is limited. Call us today and Exhibit alongside all the Top Brands the Off-Road Industry!
Call 480-899-6458 or Register Online Today!

ABOUT THE DIRT EXPO
The DIRT EXPO is Arizona's Original and Largest Off-Road & UTV Expo. Since 2002 Andy Myers has been putting on Arizona's Premier Off-Road event.  Originally called the Arizona Sand Expo the Event grew into one of the States Largest Expos and encompassed the entirety of the Arizona State Fairgrounds. In 2009, the Expo was canceled due to the economic downturn.
In 2015, the Expo returned as the International Off-Road & UTV Expo. In 2022 it was decided to scrap the name and go with a New Venue, New Name, and a New Plan. The 2022 DIRT EXPO is being held at State Farm Stadium in Glendale, Arizona. "Everything Off-Road" is the mission.
ABOUT DIRT ALLIANCE
DIRT ALLIANCE is a registered Trademark of GAM 2022. DIRT ALLIANCE has been in the dirt for over two decades. Since 2002, generations of Dirt Alliance members have been promoting the industry and activities we love. Twenty-Two years of love, hard work, and dedication have kept Dirt Alliance one of the most recognized names in the Off-Road Industry.
Today, Dirt Alliance keeps the Love of the Dirt alive by promoting the races, events, racers, influencers, and companies we love via Dirt Alliance and Dirt Alliance Media.  This email acquired images from the companies represented or photographed by Dirt Alliance staff. If you are the rightful owner of an image within this email, please notify us at media@dirtalliance.com, and we will promptly remove the said image
Recent Articles
KC HiLiTES is coming back to the 2023 DIRT EXPO to show off the latest & greatest they have to offer!

Read now

Maxxis is the Official Tire Sponsor of the 2023 Dirt Expo!

Read now

Rugged Radios is back again as the Title Sponsor of the DIRT EXPO!

Read now